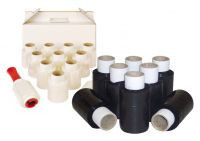 Mini Pallet Wrap is available as clear or black security film.
Mini Pallet Wrap is a hand applied manual reel which will secure more tightly than tape, is much easier to remove and will not leave an adhesive residue on your product.
Our superior film also protects items from dust, scratches, moisture.
These Mini Rolls are primarily designed for wrapping small bundles and oddly shaped packages.